Great Excursion America's Cup Yacht Racing
America's Cup Yacht Racing
I had the opportunity of a lifetime to race on one of the fastest yachts in the world. My blood started pumping as I climbed aboard the "Stars and Stripes." This multi-million dollar yacht won the American's Cup in 1983. This yachting excursion was a once in a lifetime opportunity.  I experienced it through a business called, the "12 Meter Challenge," located in Phillipsburg, St. Maarten. Colin, the owner of the, "12 Meter Challenge," is quoted to have said that, "More people have landed on an aircraft carrier than sailed on an America's Cup boat."
The day of the excursion we assembled on the dock and were greeted by an upbeat crew. Our motley group excitedly awaited instructions that would transform us into a racing yacht team. I was chosen to be the Captain of one of the teams even though I had no sailing experience. I enjoyed the title immensely because my husband usually carries that title as a commercial airline pilot.
Our group was divided into two sailing teams, and each member was assigned a task. The jobs ranged from, trimming the sails, grinders, timer, and b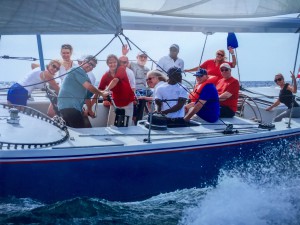 artender. My husband and I were given the Primary Grinders job.  During the official America's Cup Race, it is unfathomable that one person does this job.
With a coin toss, the yacht assignments were doled out to each team. I was extremely excited that we won the coveted USA yacht, the "Stars, and Stripes." Our competition was awarded the "True North," representing Canada.We were escorted out to the yachts in the harbor in a pontoon boat. After boarding, under the watchful eye of an experienced crew, we were instructed on our new duties. Now we were prepared for the, shortened unofficial, "America's Cup Race," in the Great Bay Harbor of St. Maarten.
[embedyt] http://www.youtube.com/watch?v=iHo-A7Pzg3s[/embedyt]
Teamwork, strategy, positioning, and timing was the key to winning the race. Hitting the start buoy with a high speed and on time proved to be a challenge. If we had begun the race too early, we would have had to start over, and that would have put us behind.  It was imperative that every turn was executed correctly.  To accomplish this, we needed to place our boat between the other team's boat and the next marker.
It was an exhilarating and thrilling experience as we flew across the sea, with the waves crashing over the bow of the yacht. Unfortunately, our team lost the race. As the team Captain, in my consolation speech, "I declared we were all winners just by participating in this amazing and thrilling adventure." In the shop, we all received a victory drink of rum punch and walked away with a tale to tell our grandchildren.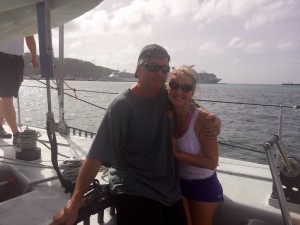 If you ever get to St. Maarten this is a must DO!!!
http://www.12metre.com/
*Tour: 2 1/2 to 3 hours depending on wind and sea conditions.
*Times: 8:30am, 10:00am, 11:45am and 1:30pm.
*Book: On-board your ship or through your hotel activity desk.
*Cost: $90-105.00 depending on where you book.
*No Children allowed less than 12 years old.
*Not handicap accessible.
*No toilet facilities on board the racing yachts.
*Wear soft-soled shoes T-shirt and shorts over a swimsuit; you will get wet from the sea spray.*Your towels and bags will be stowed below during the race.
*Photos will be taken from a speedboat and are available for purchase at the shop where you may also purchase memorabilia and souvenirs.
*Don't forget to tip the crew!!! 15%-20% of your total trip cost.
***Tip: Go early in the morning, if you want to fill a crew position.  The yachts fill-up later on in the day.