Recycle the Artificial Tree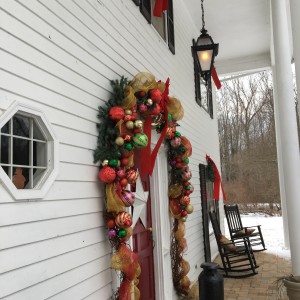 Don't throw that artificial tree away you can use it next year to decorate your home.
A green option in more than one way.
You are recycling
Saving your real branches of your evergreens
And they really do stay green longer and won't turn brown after a couple of weeks.
Instructions are pretty simple and  your possibilities are only limited to your imagination. Anywhere you would use real evergreen branches think about replacing them with these artificial branches.
Instructions
Separate all of the branches into piles according to size.
Throw away the rest of the tree unless you can figure out a way to use those.
Plan out where you want to use them.
And evergreen fan is made up of two large branches and a small branch.
Fasten them together with a zip tie. I find zip ties work better then wire because they can be cut when it is time to take them down and wire tends to snap in cold climate.
And fasten a store-bought bow on with the zip tie.
You can connect the  branches together with zip ties, viagra sales sick for swags for  doors or stair banisters for inside or outside.
Table centerpieces.
Fireplace mantel toppers (be careful of the open flames.)
The possibilities are endless.
Living a First Class Life on a Coach Budget, viagra canada
Wife of a Pilot
WifeOfAPilot.com
#WifeOfAPilot